Leverage the Benefits of

Cloud-Based Unified Communications.
A growing number of businesses are finding that traditional premises-based phone systems can no longer serve their communication needs. These legacy phone systems are hard to manage, difficult to keep up-to-date and can ultimately cost businesses a lot of money. For many organizations, it may be the right time to make the transition to a cloud-based phone system.
The perfect communication solution for your business!
By leveraging the cloud, you can enjoy access to all of the common feature functionality associated with a premises-based phone system, along with the added benefits and advantages of next-generation mobility, advanced security, unlimited and on-demand scalability and sophisticated integration capabilities.
Many businesses are searching for ways to generate cost savings and drive greater performance from their communications infrastructure.  With no upfront capital expenditures and improved overall reliability and continuity, a cloud-based or virtual PBX system has become the perfect fit for organizations of all types and sizes.  The EarthBend360 team can help you to capitalize on these business benefits with our feature-rich and reliable Ascend UC platform.
Lower System, Capital & Maintenance Costs:  A virtual PBX system doesn't require a large up-front capital investment to purchase servers or other expensive hardware. Plus, ongoing maintenance costs are built into the monthly subscription fee.

Flex Communication Resources On Demand:  A cloud-based solution enables quick scaling in response to your business needs. Simply purchase the number of licenses you need for as long as you need them.

Adopt Big-Business Capabilities on a Small-Business Budget:  With a cloud system, you can easily add sophisticated communications capabilities that might otherwise prove cost-prohibitive.
Flexible & Accessible Business Communications:  Since the technology is hosted in the cloud, your remote and mobile workers can access and use the phone system from anywhere.

Maintain Focus on Your Core Business Needs:  You should be focused on your primary business activities, not phone system management. With a cloud phone system, you can concentrate on achieving business goals with the support of cutting-edge communication tools.

Ensure Business Communications Continuity:  A cloud PBX helps to ensure uninterrupted communications, since services are hosted off-site in secure and redundant data centers.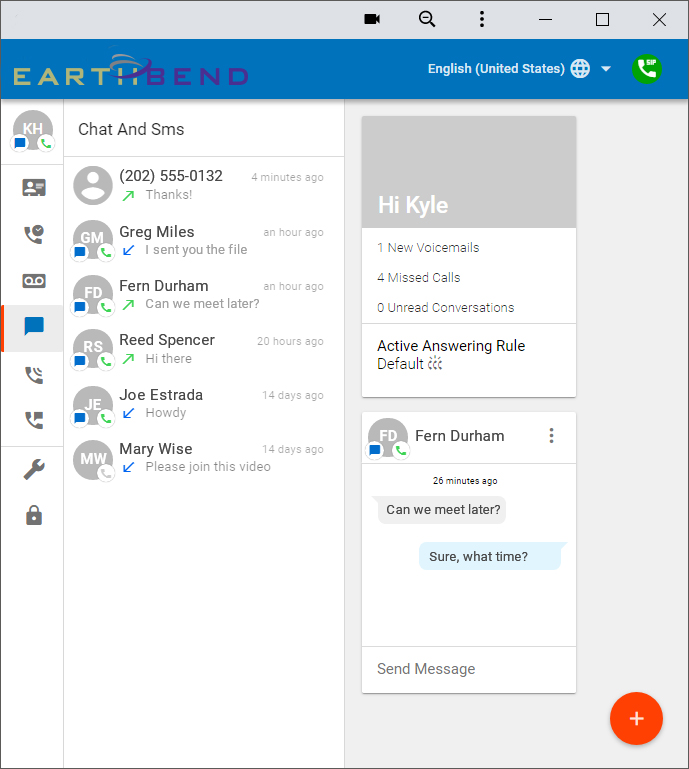 Connect Your Remote and Mobile Workers from
Across Multiple Locations.
In addition to the cost advantages, a cloud-based phone system offers superior communications flexibility and accessibility. Since the technology resides in the cloud, remote and mobile workers can access and use the phone system from anywhere.
The EarthBend360 Ascend UC platform is designed to support small, medium and large businesses as well as distributed enterprises with branch offices in multiple locations.
It enables workers located in geographically dispersed locations to communicate through a single cloud-based system and stay connected. They can make and receive phone calls using the main business number or their personal number, regardless of which device they use—a mobile phone, desk phone, desktop or their home phone.
Your team members in branch or home-based offices are able to enjoy and use the same business telephony capabilities available to users at your headquarters location.
Unified Communications and Collaboration for the Modern Business Environment.
Like many businesses today, you're likely looking for better mobility, quality, reliability and more powerful features, and at a lower cost than what you are experiencing with your current phone system. The EarthBend360 Ascend UC system makes it easy for you and your employees to stay connected and productive – from any device and any location.
Increase reachability through single-application access to all communication services on mobile devices, allowing employees to work from anywhere.

Check presence status, exchange IMs, share files and get information quickly.

Call with video to connect remote locations, building consensus and improving understanding through visual cues.
Connect to external partners and customers for full UC using only a browser with WebRTC.

Streamline workflow with integration to market-leading business applications like Salesforce.

Eliminate capital costs and reduce operational expenses with a combined hosted voice and unified communications service bundle.
Speed up decision making with multi-party voice, video and collaboration on laptops, smartphones and tablets.

Improve teamwork by bringing together individuals and virtual workgroups for scheduled and impromptu meetings.

Utilize desktop sharing to give an entire project or pitch team the ability to view demonstrations and presentations in real-time on their own device.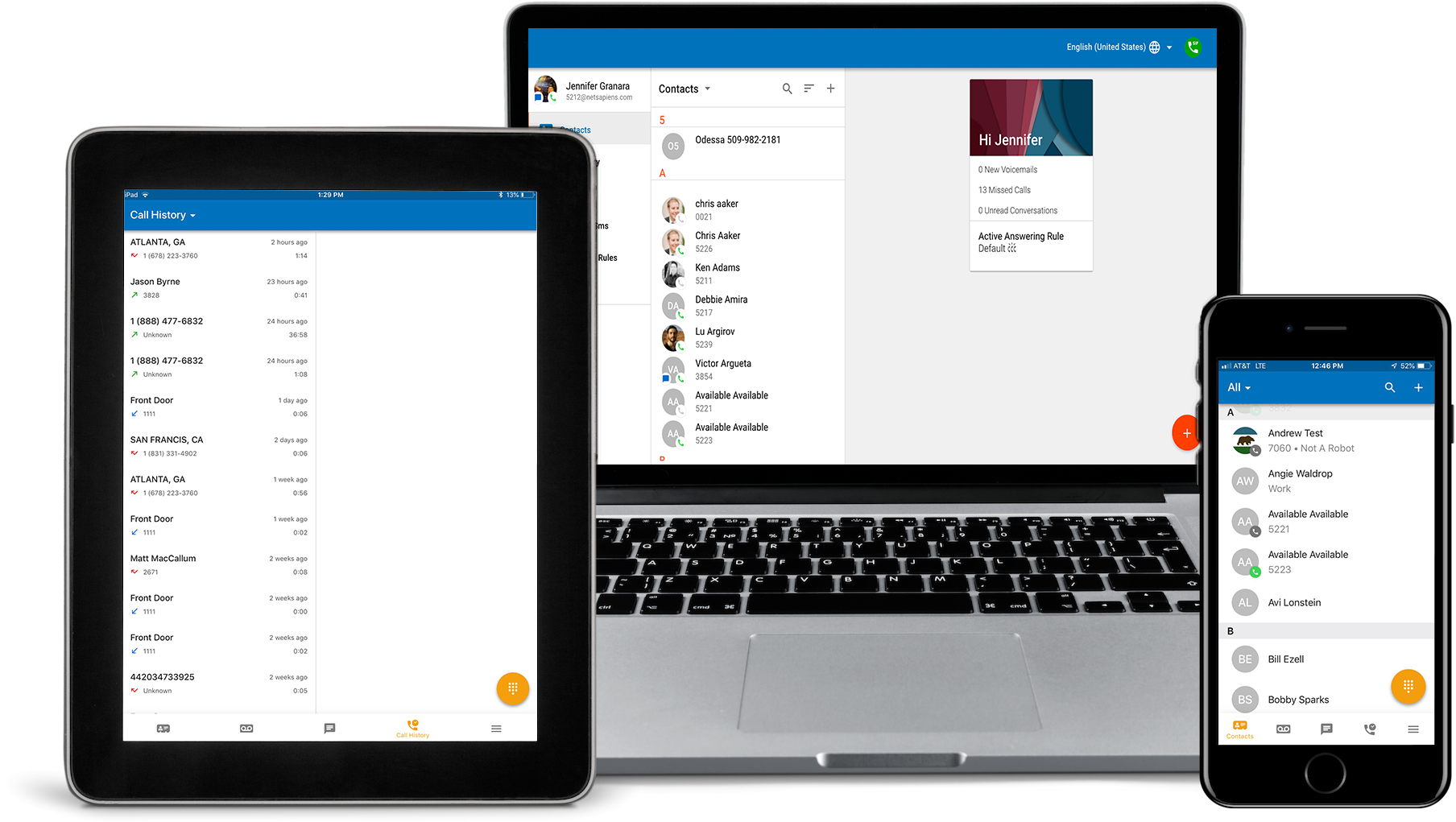 All the UC Tools You Need,

In One Solution.
The EarthBend360 Ascend UC platform's suite of communications and collaboration apps lets you call, message, and meet with anyone from any device.
It's HD video, voice, messaging, screen sharing, file sharing and conferencing in a single easy-to-use cloud application that integrates with commonly used business apps.
Now your employees can choose how they want to work! Whether it's on a PC, tablet or smartphone, they're always connected.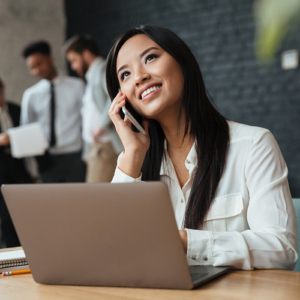 Enrich your relationships using high-quality HD voice and video from any device or conference room.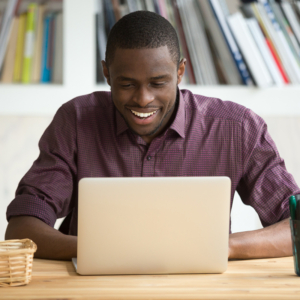 The best way to move business forward is to communicate quickly and concisely with 1-1 and group chat.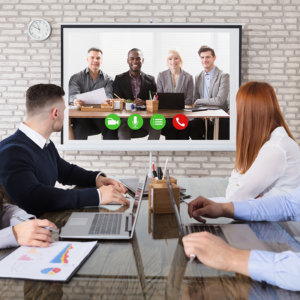 Improve workplace collaboration and make meetings engaging with HD video, voice, messaging and screen sharing.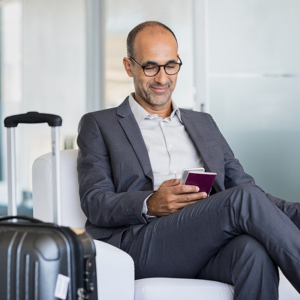 With UC tools that work on iOS and Android tablets and smartphones, workers can call, message and meet while they're on the go.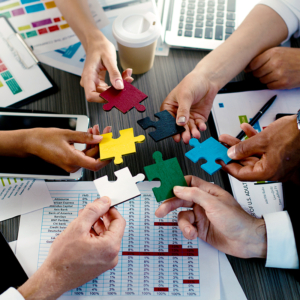 Unite with other leading business apps to retrieve relevant emails and files and spend less time searching and more time being productive.
Pick a Plan to Meet Your
Unique Business Needs.
The cloud-based architecture of our EarthBend360 Ascend UC platform supports high quality, high-definition voice audio with built-in business continuity solutions. Our feature-rich unified communications and collaboration applications ensure anywhere, anytime connectivity. We offer multiple service plan and pricing options to meet the unique requirements of your business and employee work styles.
Phone Only
Addresses essential, phone-centric business communication needs of select users, and is also suitable for lobbies, reception areas, conference rooms, and warehouse environments.

Includes a physical phone set with these phone-accessible UC features:
Local & Long Distance
Direct Inward Dialing (DID)
Call Forwarding, Call Waiting & Three-Way Calling
Voicemail to Email (Unified Messaging)
Ring / Hunt Groups
Hot Desking
Basic
Offering an expanded UC feature set, our Basic plan accommodates office users as well as highly mobile "road warriors," virtual home office workers, and remote employees.

Includes everything in the Phone Only plan, PLUS:
Web Phone
Mobile Apps for iOS and Android
Attendant Console
CTI Module (delivers screen-pop, caller history, and click-to-dial functionality)
SMS-Enabled DID
Configurable Outbound Caller ID
Voice Messaging
Instant Messaging
Call Recording
Advanced
Our Advanced plan layers in powerful web conferencing, team collaboration, and large-scale webinar event hosting feature functionality.

Includes everything in the Basic plan, PLUS:
SNAP.HD Audio / Video Collaboration capabilities, which includes:
Video Conferencing (up to 25 simultaneous video streams)
Webinar Hosting (up to a total of 1,000 attendees)
Meeting Collaboration (screen, application, and document sharing)
Cloud-Based Meeting & Webinar Recording (view, share, and download recordings)
IP Business Phones

For Any Use Case.
To help your organization stay connected, EarthBend360 offers a variety of market-leading Yealink and Poly (formerly Polycom) business IP phones. From powerful entry-level desk phones for knowledge workers, to executive phones offering more robust feature-functionality, EarthBend360 provides a full range of endpoint options to support an optimal business communications experience.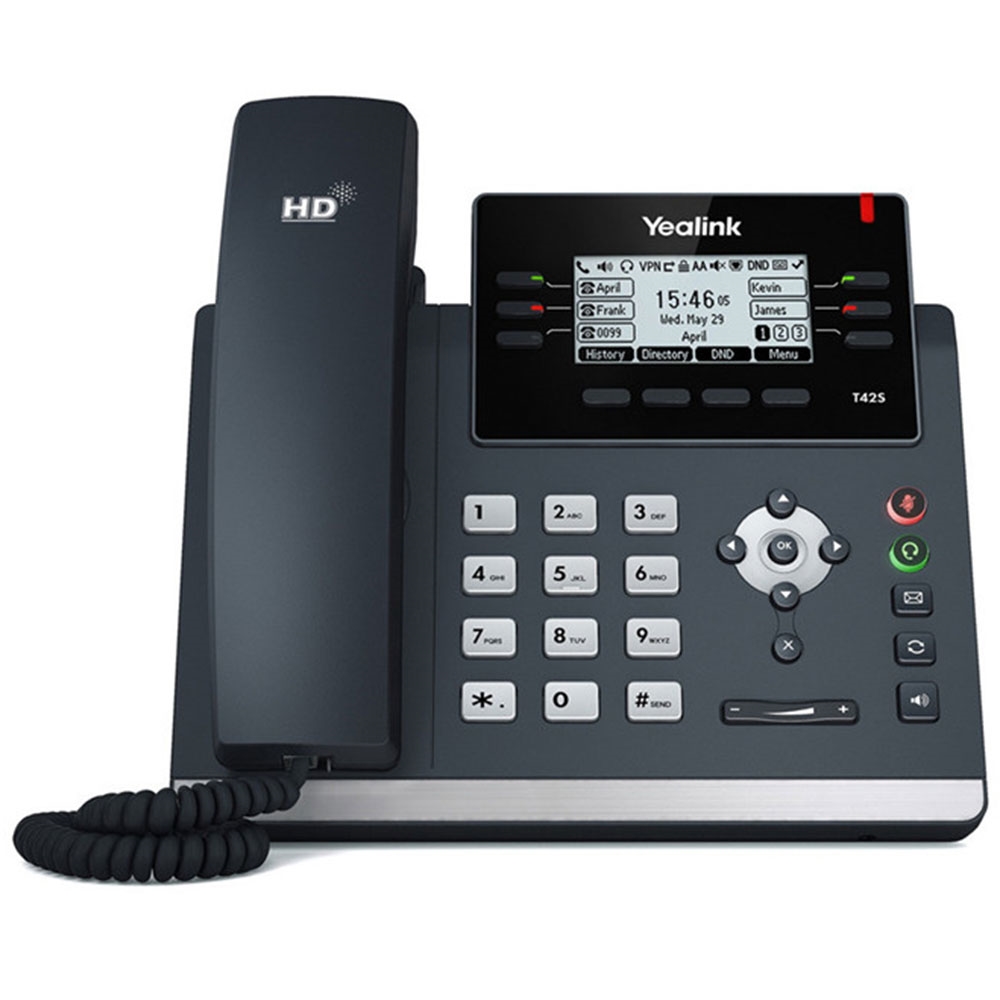 Yealink SIP-T42S
Yealink SIP-T42S
The Yealink SIP-T42S IP phone is a dynamic business communications tool for superior voice communications and extended functionality. The SIP-T42S is a 12-line IP phone with multiple programmable keys for enhancing productivity. It is with Yealink Optima HD Voice Technology and wideband codec of Opus for superb sound quality and crystal clear communications.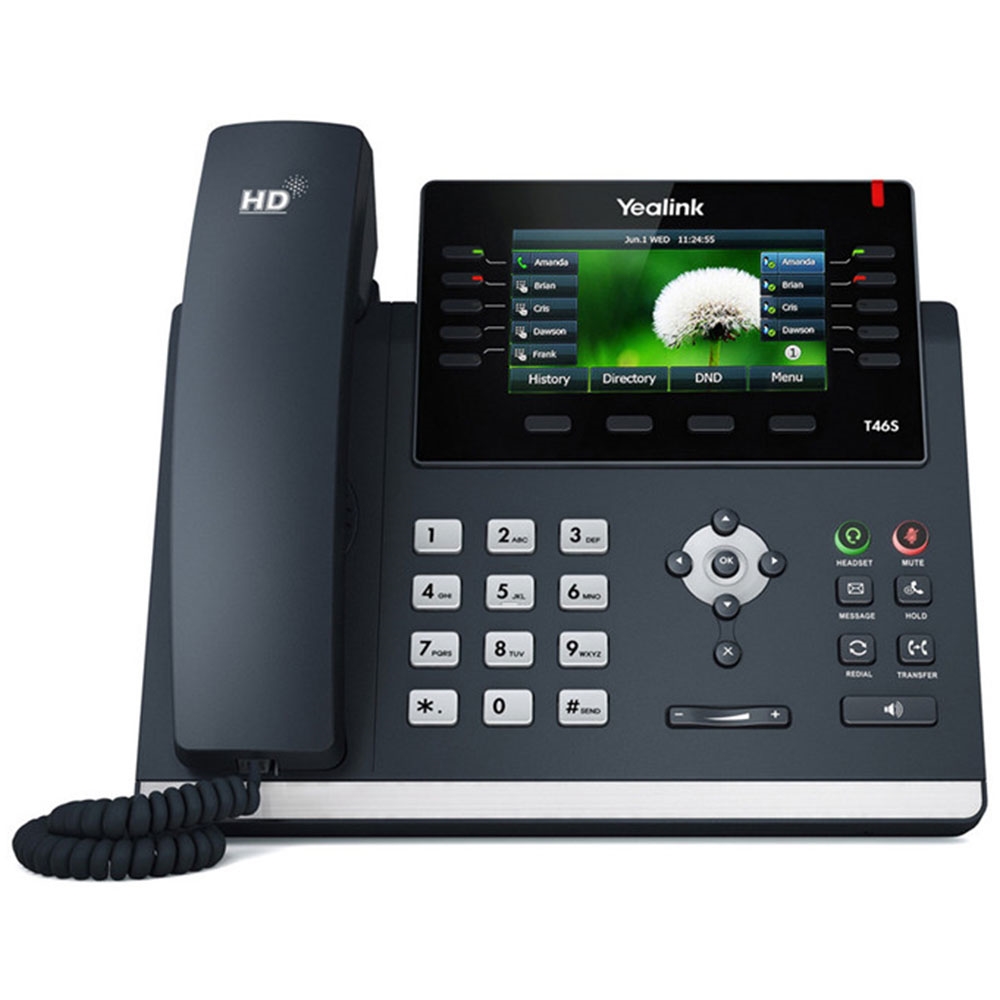 Yealink SIP-T46S
Yealink SIP-T46S
The T46S is an elegantly designed IP phone for executives and busy professionals. Its large, crystal clear display gives simple navigation through a wealth of productivity enhancing features. The 10 multi-function keys can be programmed to access 3 pages of 9 features and can be used for accounts, BLFs, system functions or simply for speed dials.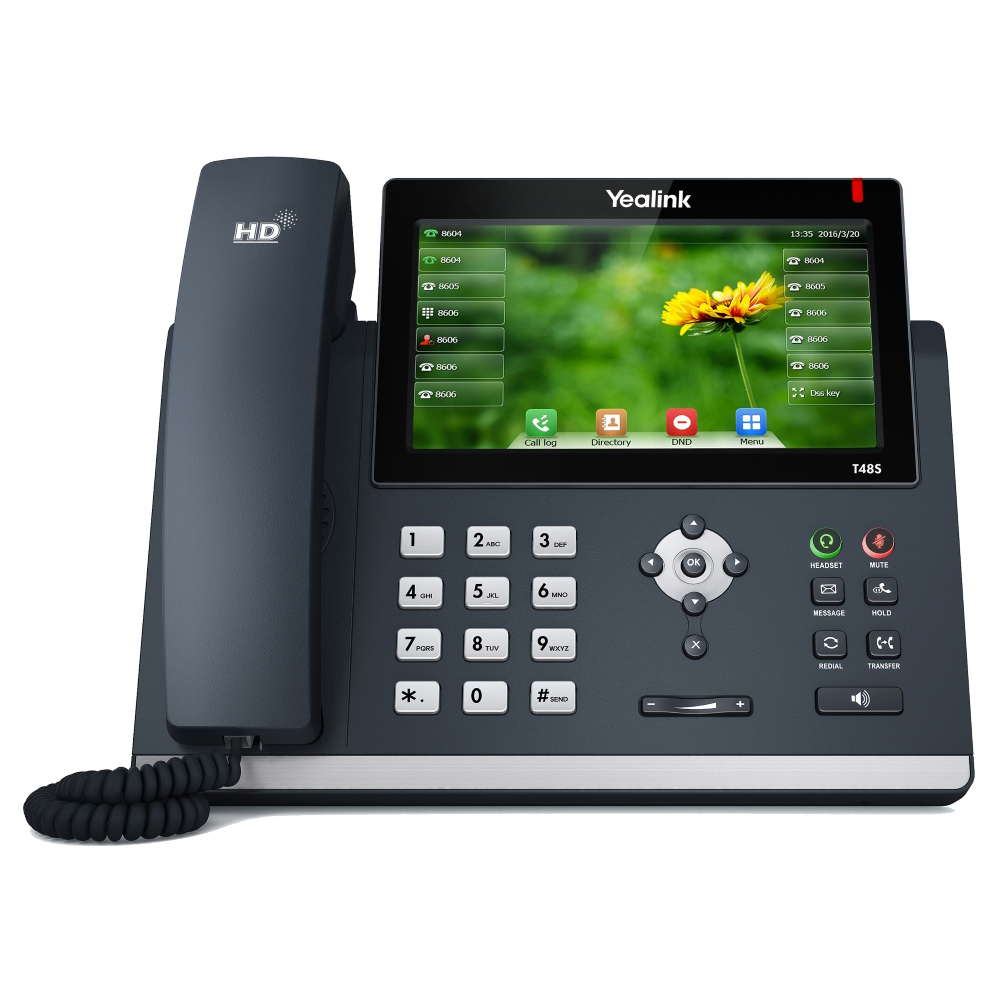 Yealink SIP-T48S
Yealink SIP-T48S
The Yealink SIP-T48S IP phone features a 7-inch touchscreen display as well as support for Optima HD Voice, Opus Codec, USB 2.0, HAC and more. The large touch screen makes switching between pages and applications swift, easy and convenient. Phone users will think they are sitting in the same room with one another.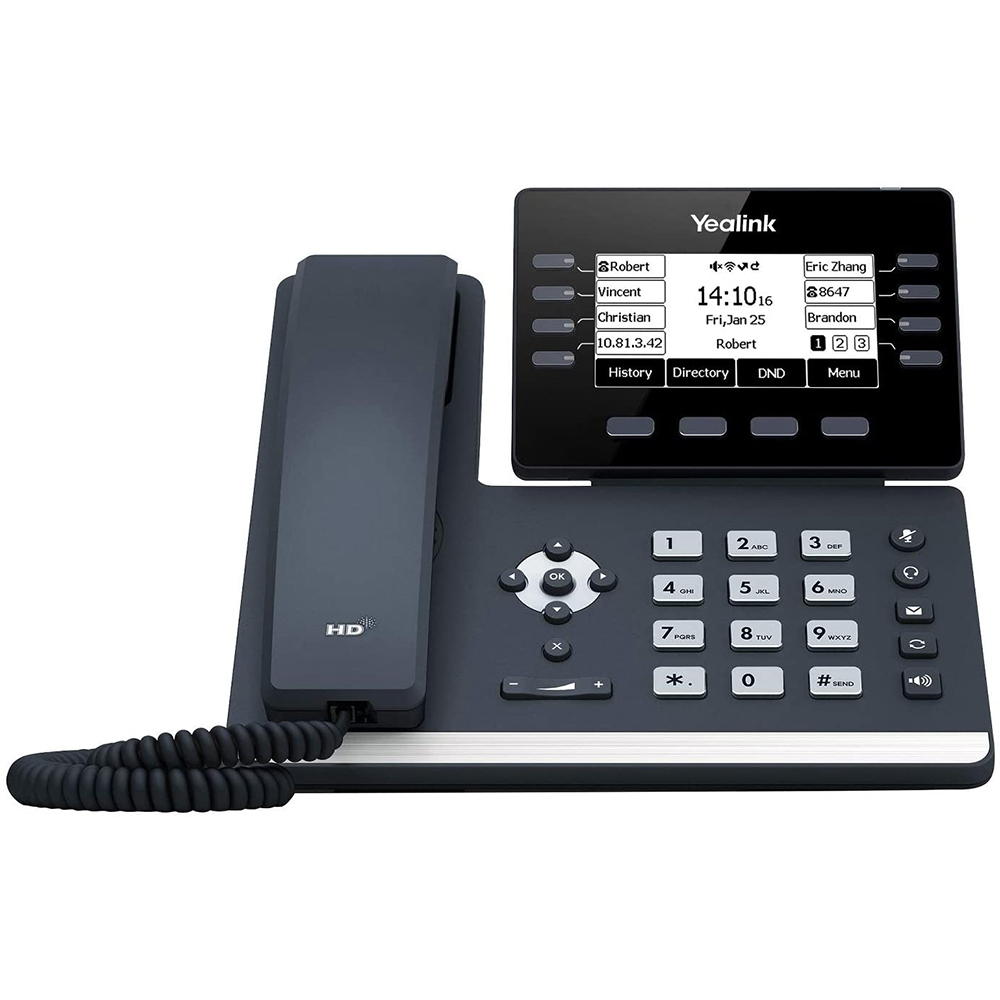 Yealink SIP-T53W
Yealink SIP-T53W
The Yealink SIP-T53W supports 802.11ac Wi-Fi for fast network connectivity no matter where it is located, and it is Bluetooth-equipped for use with wireless headsets. Yealink Optima HD audio technology provides excellent wide-band sound quality on the hearing aid compatible handset and full-duplex speakerphone.  It also features a large, adjustable backlit display that makes reading information easy.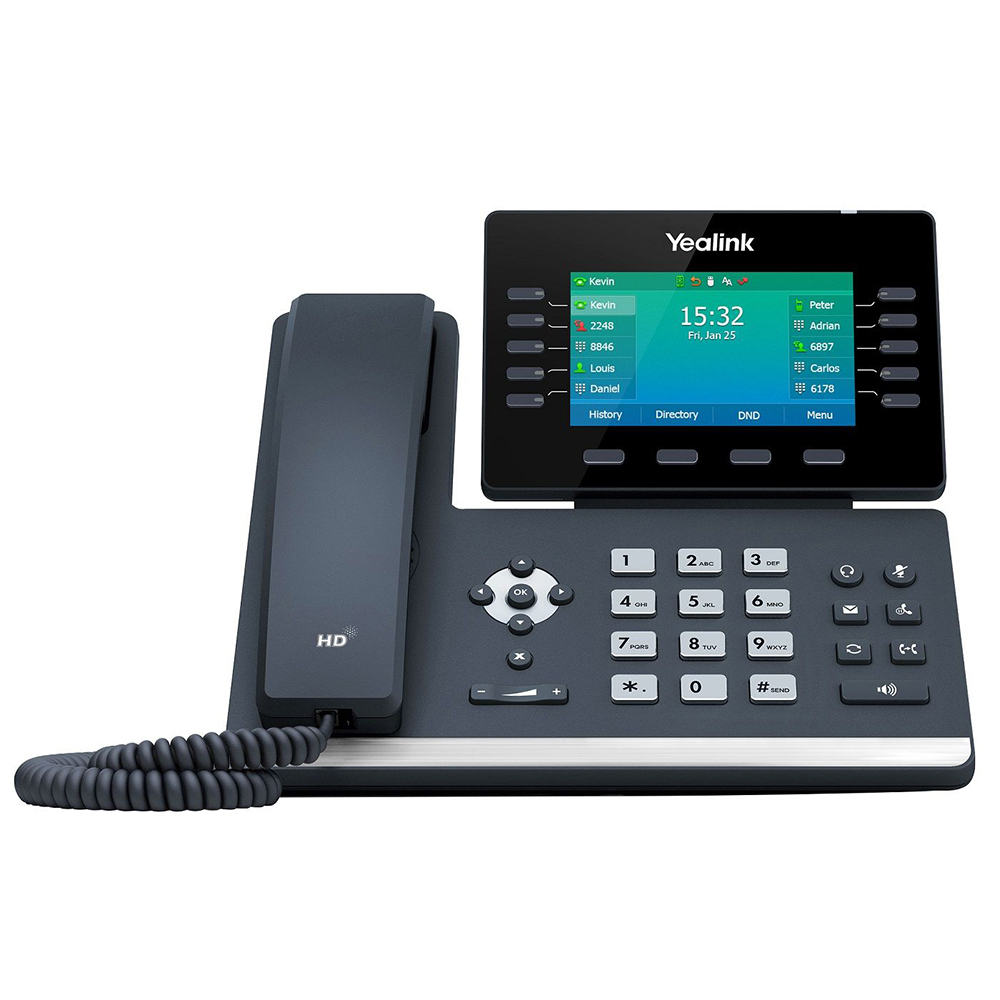 Yealink SIP-T54W
Yealink SIP-T54W
The Yealink T54W offers flexible deployments options for a mid-range VoIP phone with HD audio. Equipped with 802.11ac Wi-Fi, it can be installed virtually anywhere in the office, and also supports Bluetooth for wireless connectivity with headsets. Acoustic Shield technology gives you incredible background noise reduction by using a virtual shield around participants, a particularly useful feature for open offices.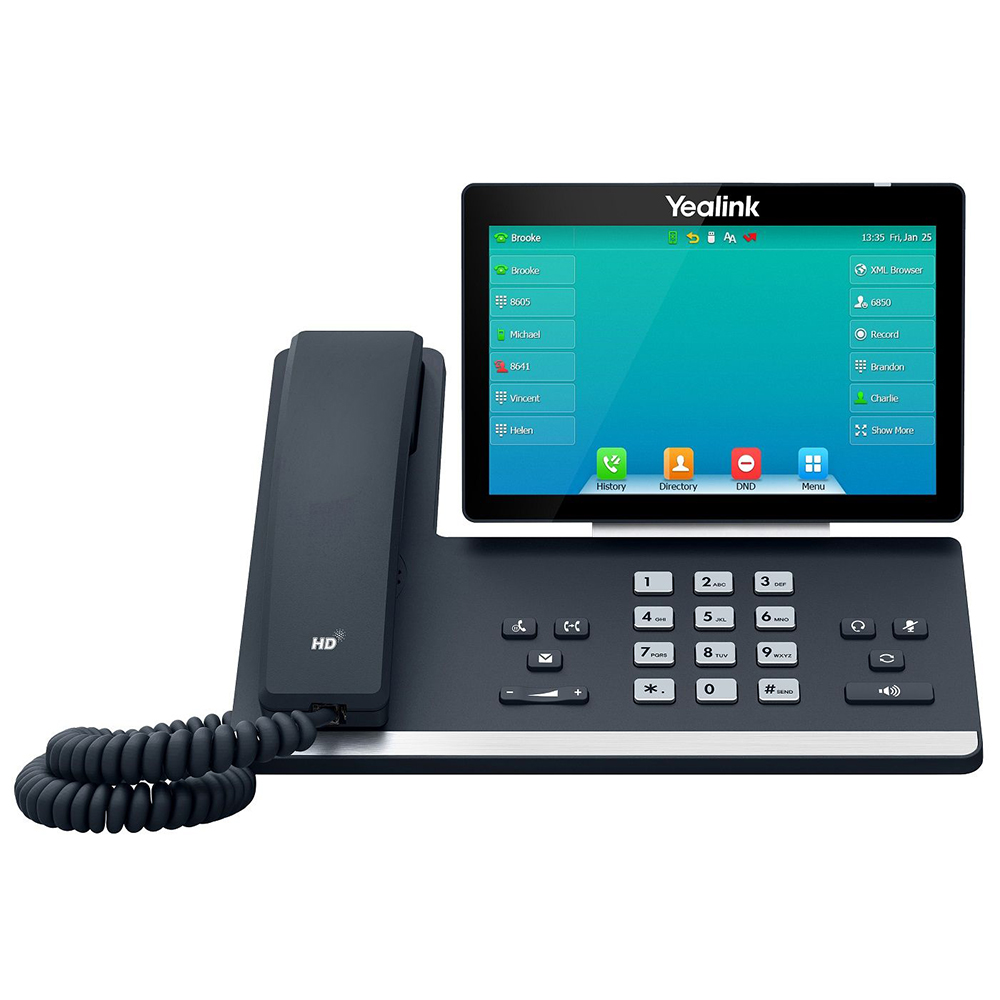 Yealink SIP-T57W
Yealink SIP-T57W
The Yealink T57W is a premium IP phone with a 7″ touchscreen display, HD audio, and wireless connectivity. The T57W supports 802.11ac Wi-Fi, allowing it to be positioned anywhere in the office while still providing an excellent network connection. The T57W also features native Bluetooth support for wireless headphones. Its large capacitive touch display makes it as simple to operate as a smartphone.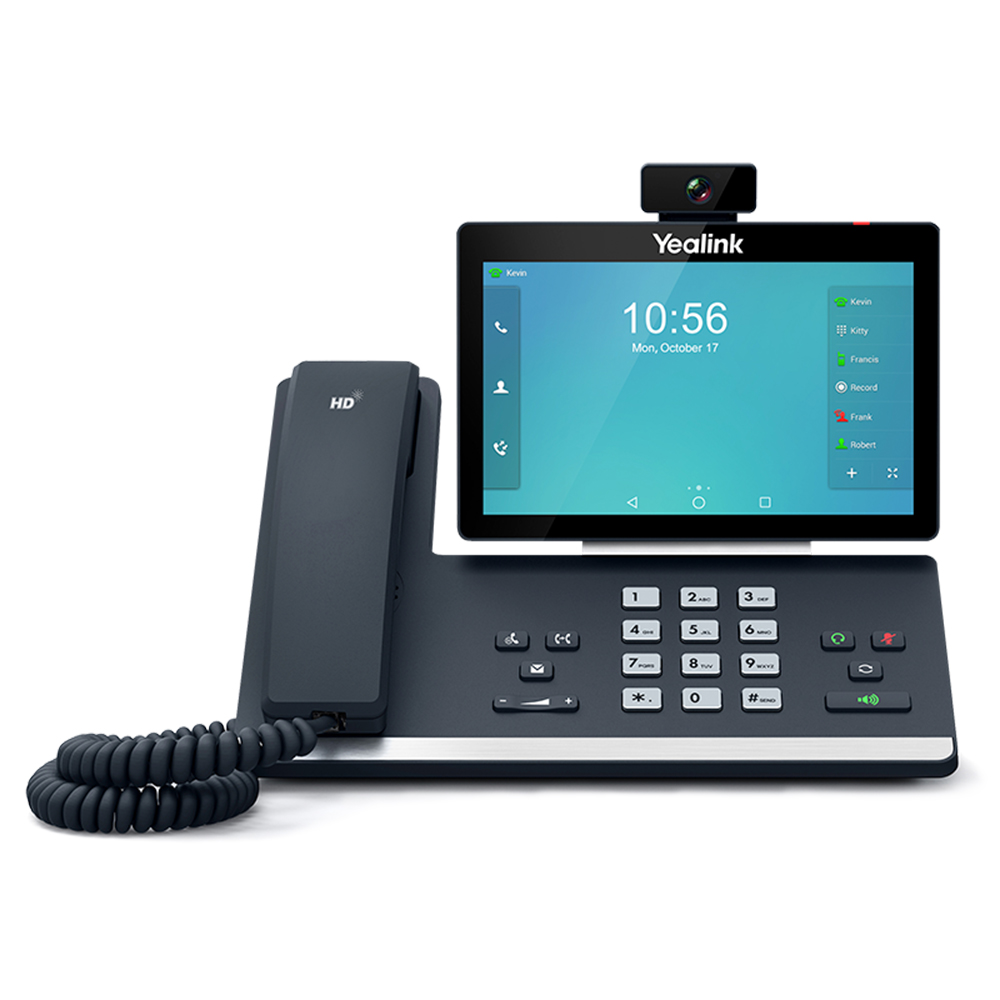 Yealink SIP-T58V
Yealink SIP-T58V
The Yealink SIP-T58V is an incredible executive video phone with a Yealink CAM50 USB camera included. Capable of 720p HD video conferencing via its large 7″ LCD touchscreen display, the T58V runs a customized Android OS based on Android 5.1.1. This provides the enterprise-class feature functionality paired with simple and familiar smartphone-like interactivity.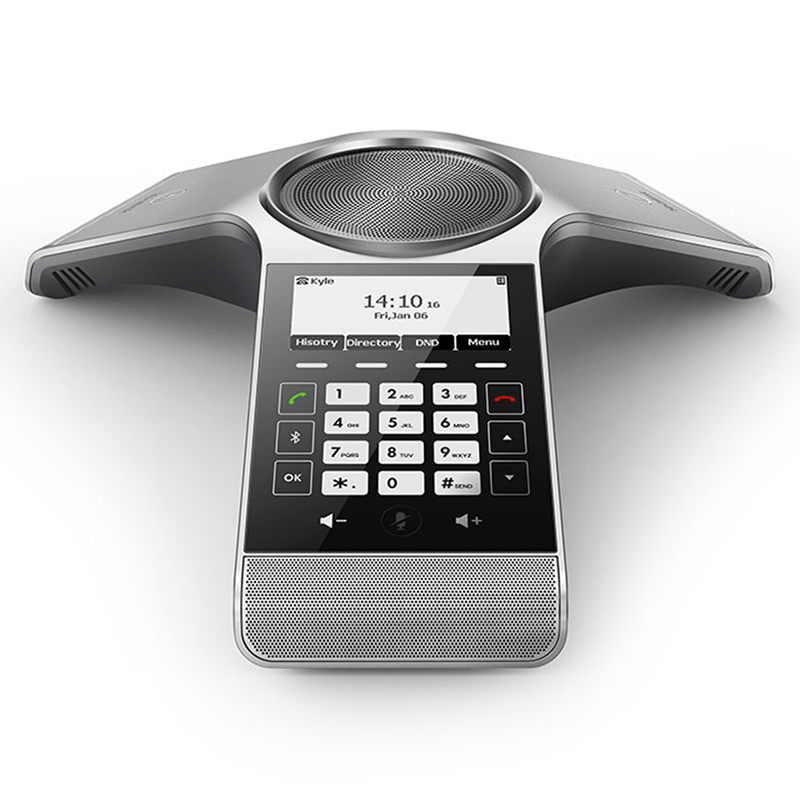 Yealink CP920
Yealink CP920
The Yealink CP920 is a VoIP conference phone that combines incredible sound quality and broad interoperability to provide a group call solution for business. The CP920 features Yealink Optima HD and Noise Proof technology, keeping your calls clear of distraction and making sure that every voice can be heard in gorgeous, wideband audio. The built-in three-microphone array provides 360° coverage out to 20 feet.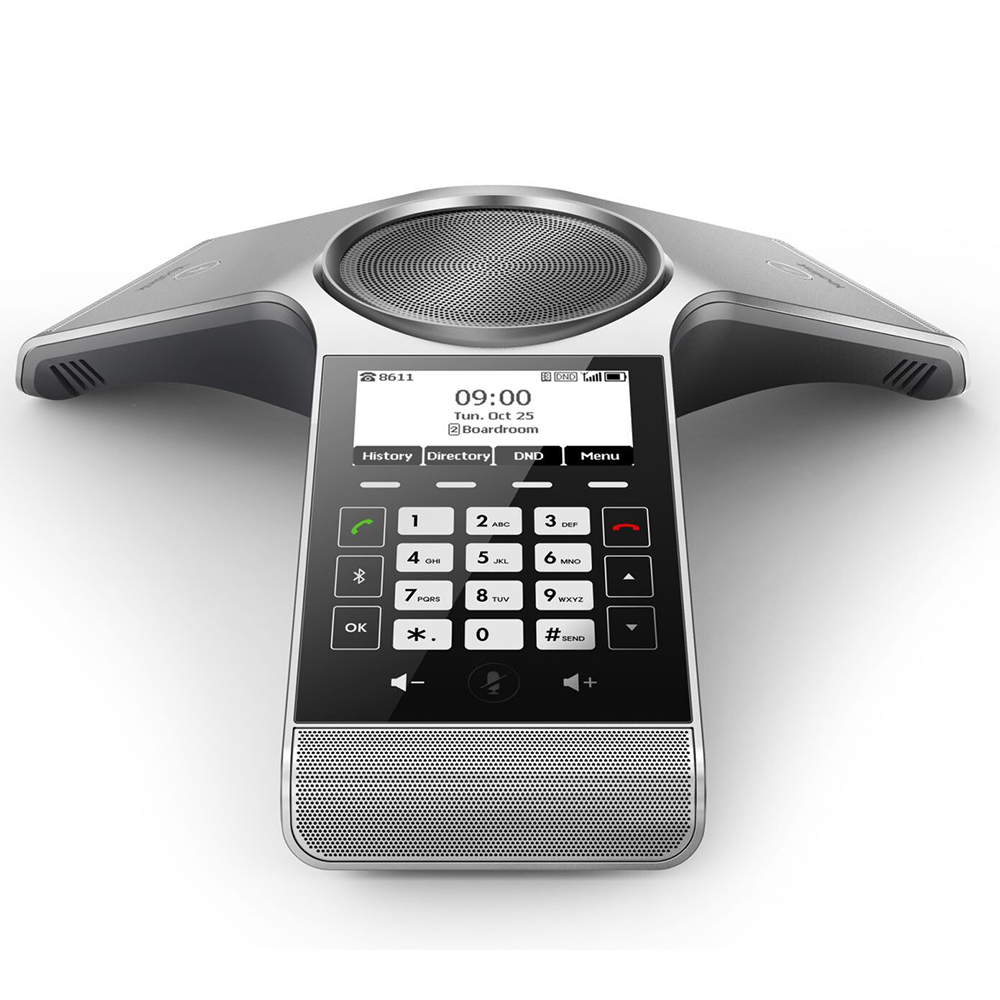 Yealink CP930W
Yealink CP930W
The Yealink CP930W wireless conference phone combines professional audio quality and telephony features with the stress-free flexibility of a cordless phone. The CP930W has a built-in rechargeable Li-ion battery that holds a full day's charge. The 3-microphone array provides 360° voice pickup out to 20 feet, making it suitable for large conference rooms, while its mobility and ease of use makes it perfect for huddle rooms.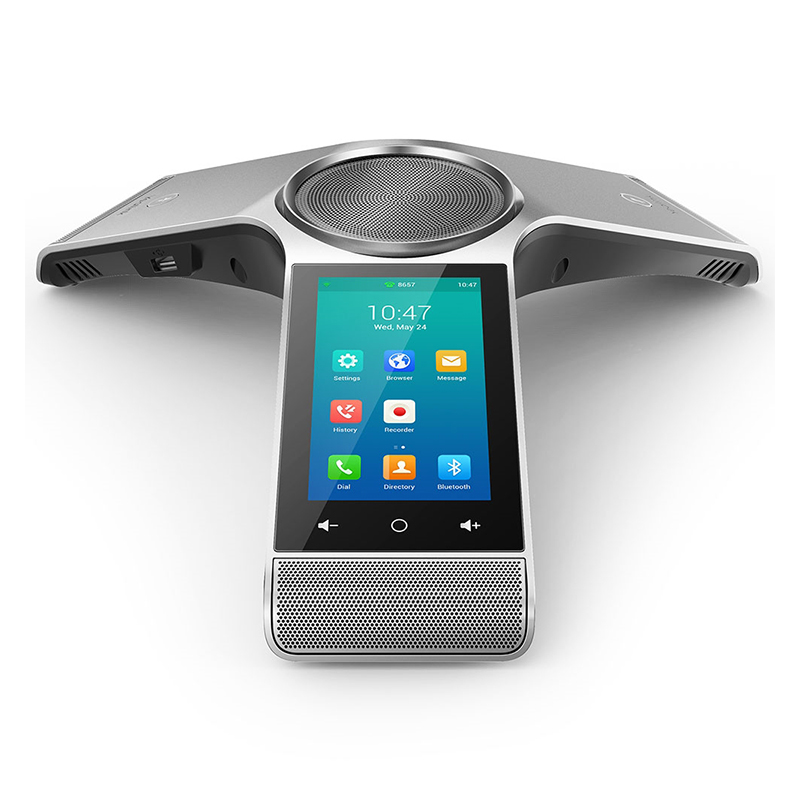 Yealink CP960
Yealink CP960
The Yealink CP960 conference phone is equally at home on the executive desk or boardroom table. It features a Y-shaped design with three-microphone array for 360° voice pick-up up to 20 feet. Its 10W 56mm Harman Kardon speaker and Optima HD sound processing deliver exquisite audio quality. Add two expansion microphones, wired or wireless, to extend the pick-up range of the conference phone, or an external loudspeaker for greater sound.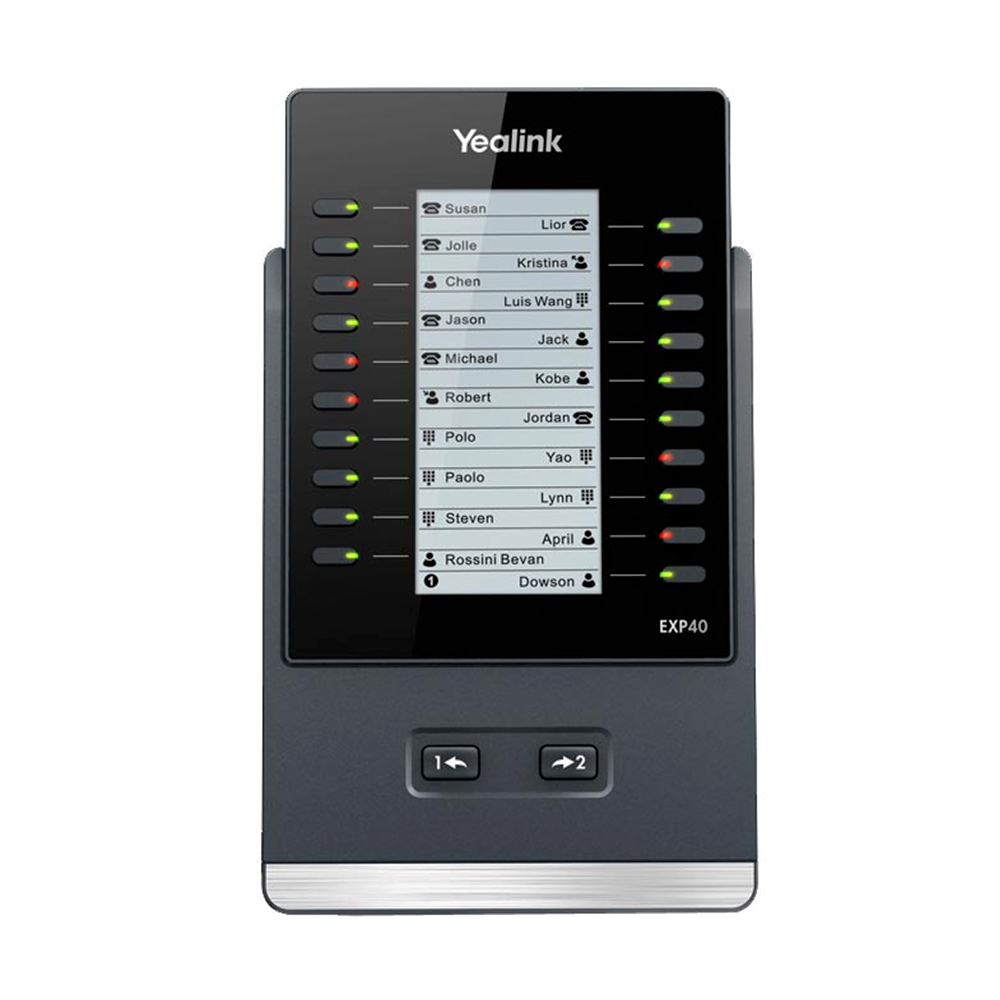 Yealink EXP40
Yealink EXP40
The Yealink EXP40 Expansion Module, compatible with the SIP-T46S, SIP-T46G, SIP-T48S, and SIP-T48G models, takes the functional capabilities of your SIP phone to a whole new level. It features a large graphic LCD, and two pages of 20 flexible buttons are shown on the display and can be programmed for up to 40 various features. The productivity-enhancing features include BLF/BLA, speed dialing, call forward, transfer, park, pickup, and more.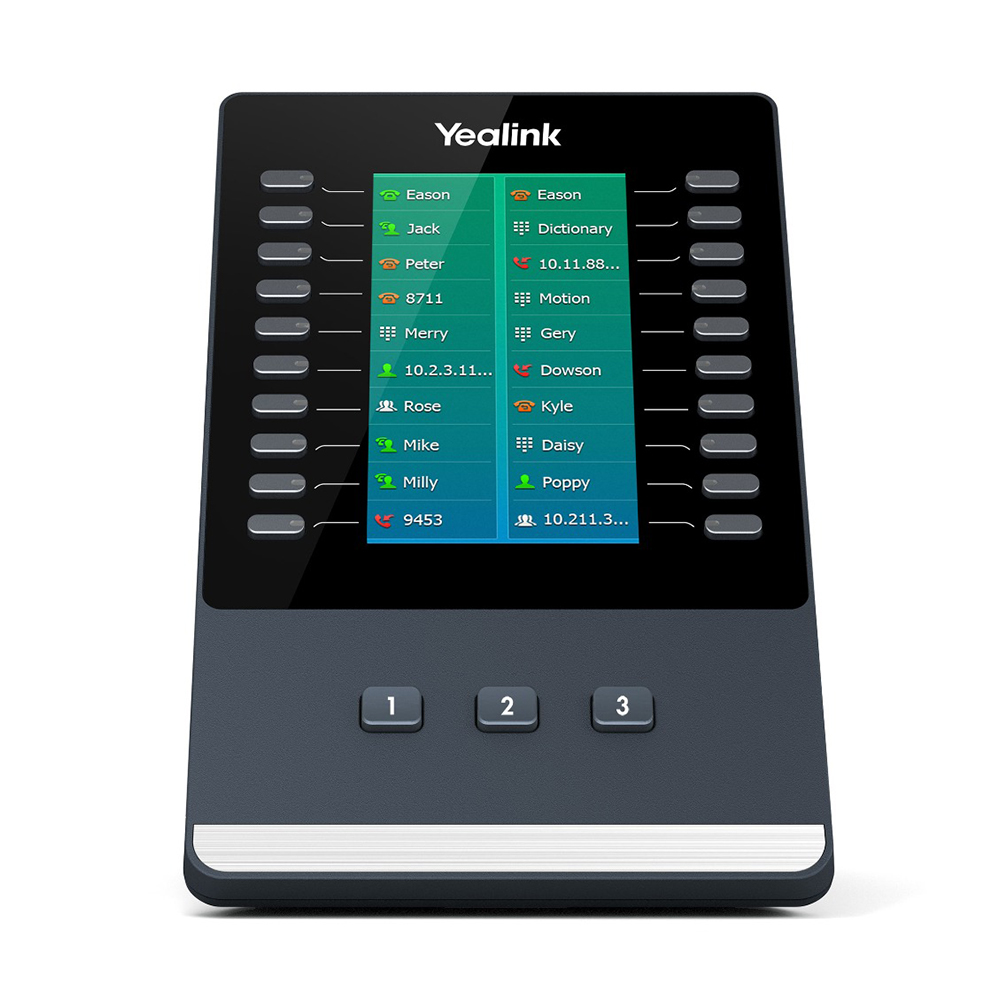 Yealink EXP50
Yealink EXP50
The Yealink EXP50 Expansion Module, compatible with the Yealink T5 Series IP phones, takes the functional capabilities of your SIP phone to a whole new level. It features a large 4.3-inch color-screen LCD, and three pages of 20 flexible buttons are shown on the display and can be programmed for up to 60 various features. The productivity-enhancing features include BLF/BLA, speed dialing, call forward, transfer, park, pickup, and more. It is an ideal solution for receptionists, administrative assistants, and contact center workers.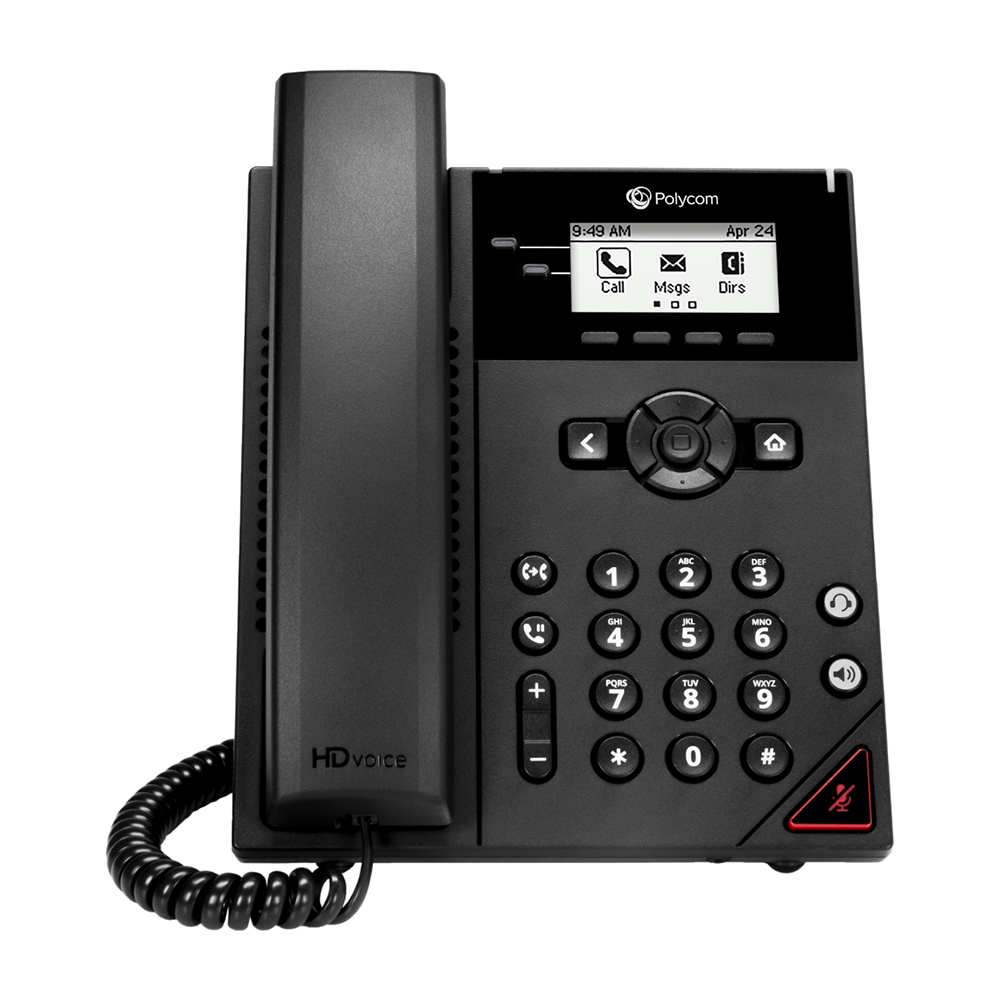 Poly VVX 150
Poly VVX 150
Enjoy super clear conversations on a two-line Poly VVX 150 phone that's affordable, easy to set up and everyone can use.  The VVX 150 features enterprise-grade HD sound quality and reliable performance with a 2.5 backlit LCD display.
Poly VVX 350
Poly VVX 350
The Poly VVX 350 business IP desk phone is a high quality, six-line, color, mid-range, IP phone designed for small to medium size businesses. It is ideal for knowledge workers, and call center operators who need to handle moderate/high volume of calls and whose work demand reliable connectivity.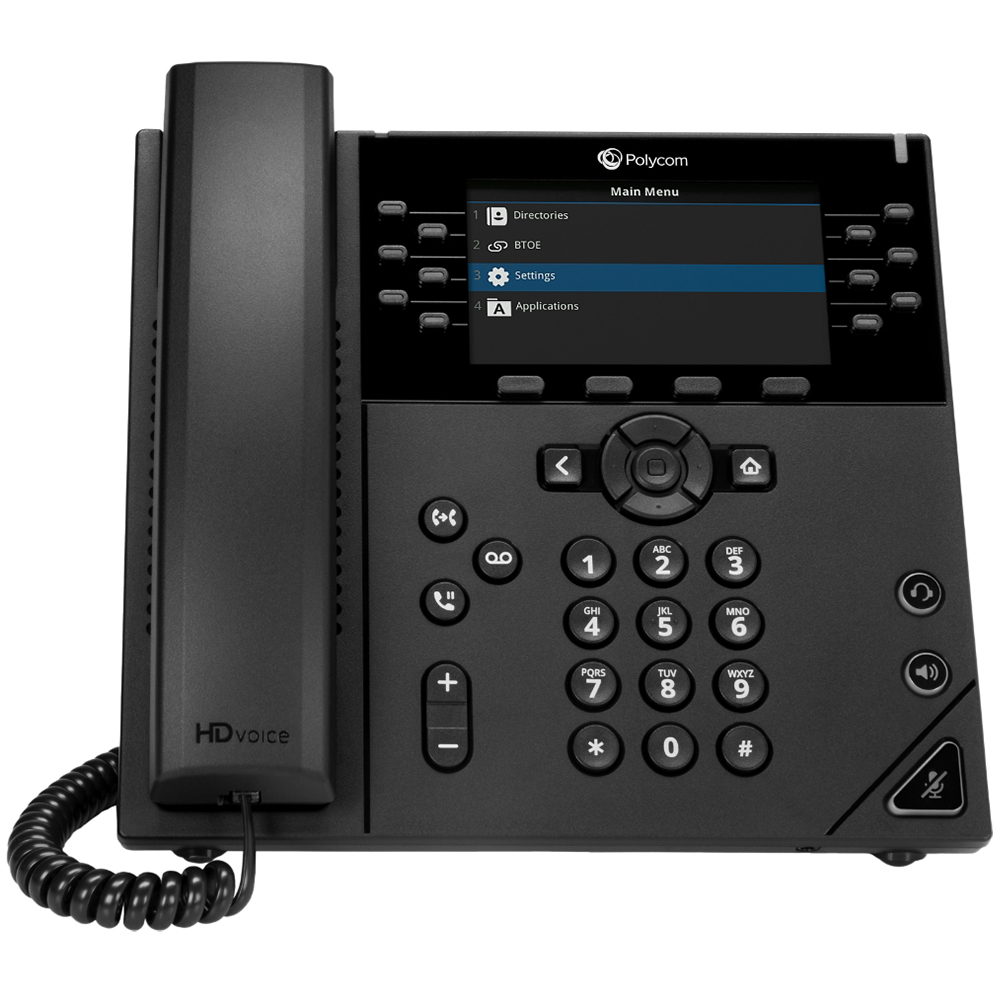 Poly VVX 450
Poly VVX 450
The Poly VVX 450 business IP desk phone is a high quality, twelve-line, color, performance IP phone for businesses of all sizes. It is ideal for knowledge workers, executives and upper management.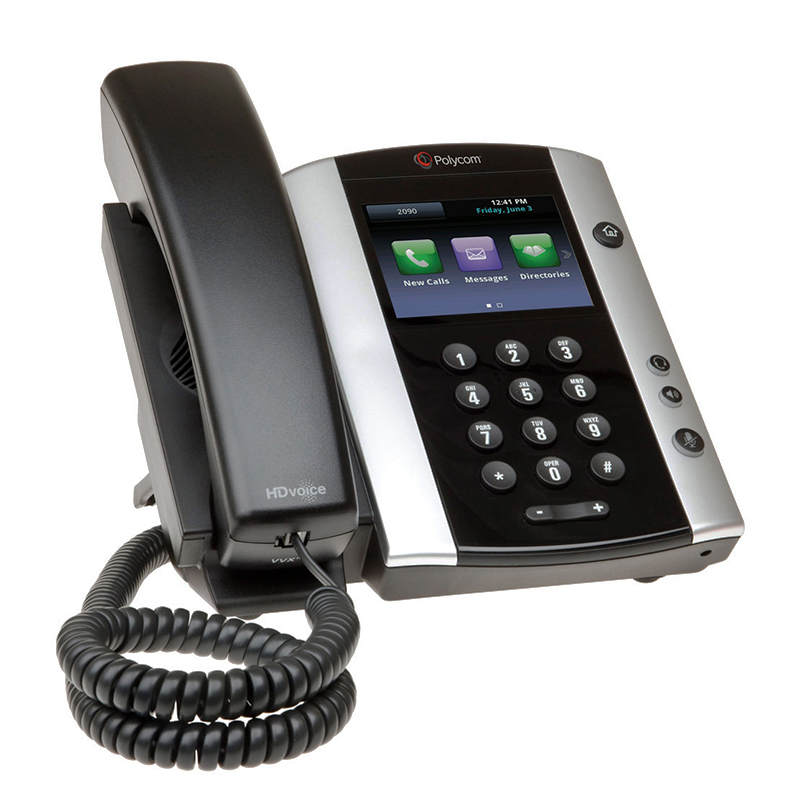 Poly VVX 501
Poly VVX 501
The Poly VVX 501 is an IP phone for elite productivity. With Poly HD Voice, the VVX 501 gives you incredible audio. The 3.5″ touchscreen display provides an intuitive, familiar interface for operating your phone, and is highly customizable. Poly Acoustic Clarity keeps voices distinct during conferences. The 501 is video-capable. The optional VVX Camera allows you to transmit video from your deskphone.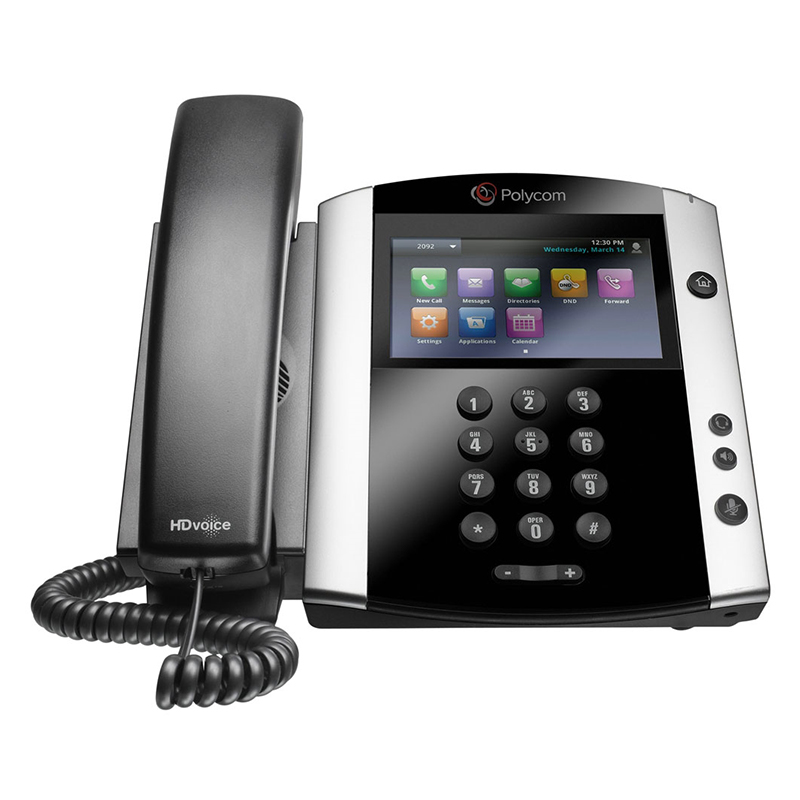 Poly VVX 601
Poly VVX 601
The Poly VVX 601 is an executive IP phone, designed not only to look great on your desktop, but also to provide you with premium features and exquisite sound. The VVX 601 has a large 4.3″ 480 x 272 pixel touchscreen display that lets you operate the extensive functions in an intuitive, quick manner. The phone is video capable, and an optional USB camera plugs into it, enabling HD video conferencing from your desk.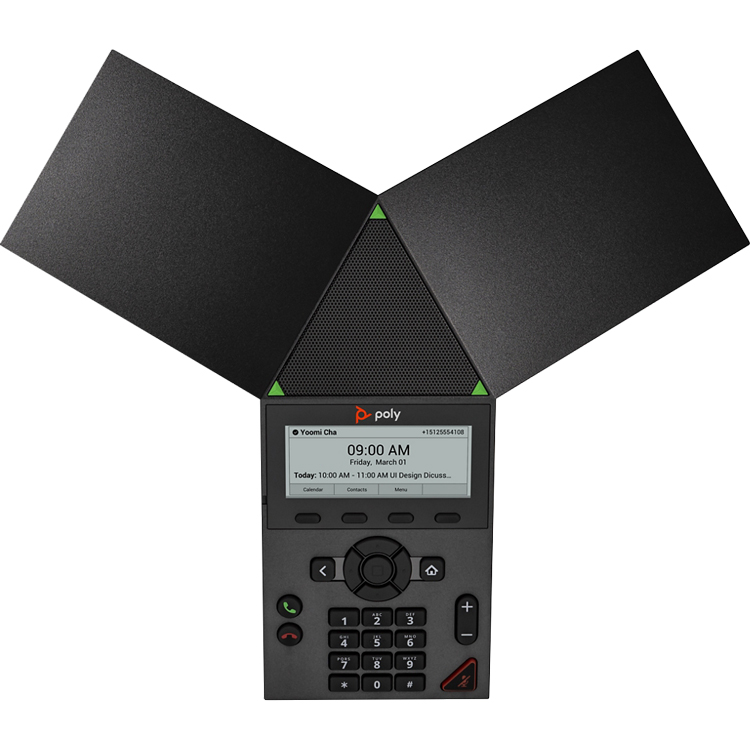 Poly Trio 8300
Poly Trio 8300
Transform any small conference room into a smart collaboration hub with the Poly Trio 8300. Connect your teams and boost productivity with unparalleled audio clarity. Classic interface. Future-proof flexibility.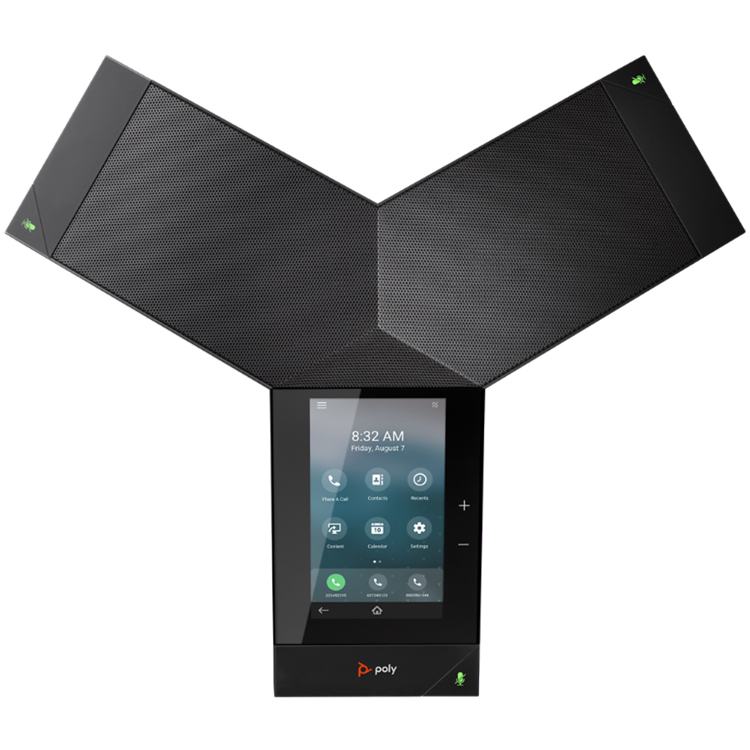 Poly Trio 8500
Poly Trio 8500
A smart conference phone for any-size meeting space. Legendary voice quality. A familiar interface. Interoperability like never before. The Poly Trio 8500 transforms any-size room into a hassle-free space for team collaboration.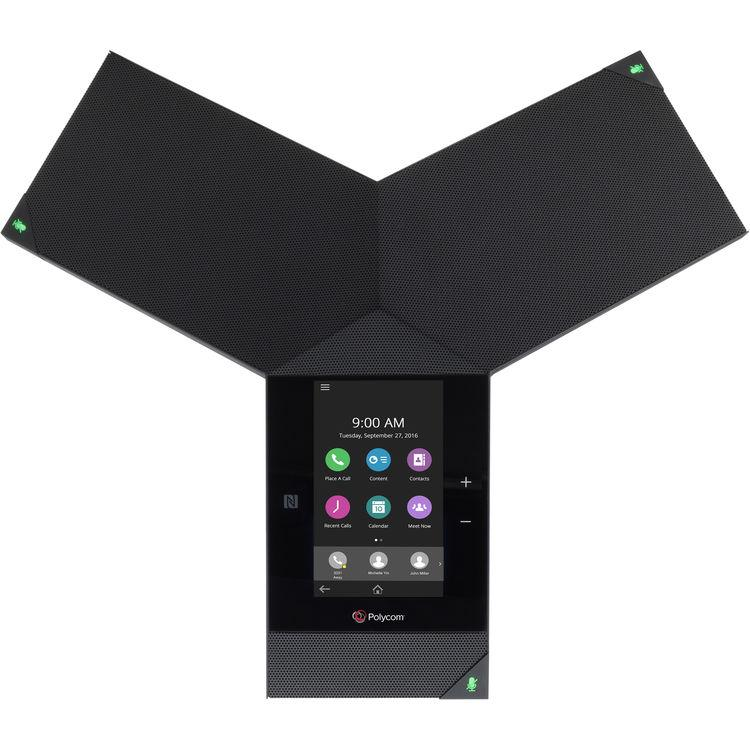 Poly Trio 8800
Poly Trio 8800
A smart conference phone for any-size meeting space. Legendary voice quality. A familiar interface. Interoperability like never before. The Poly Trio 8800 transforms any-size room into a hassle-free space for team collaboration.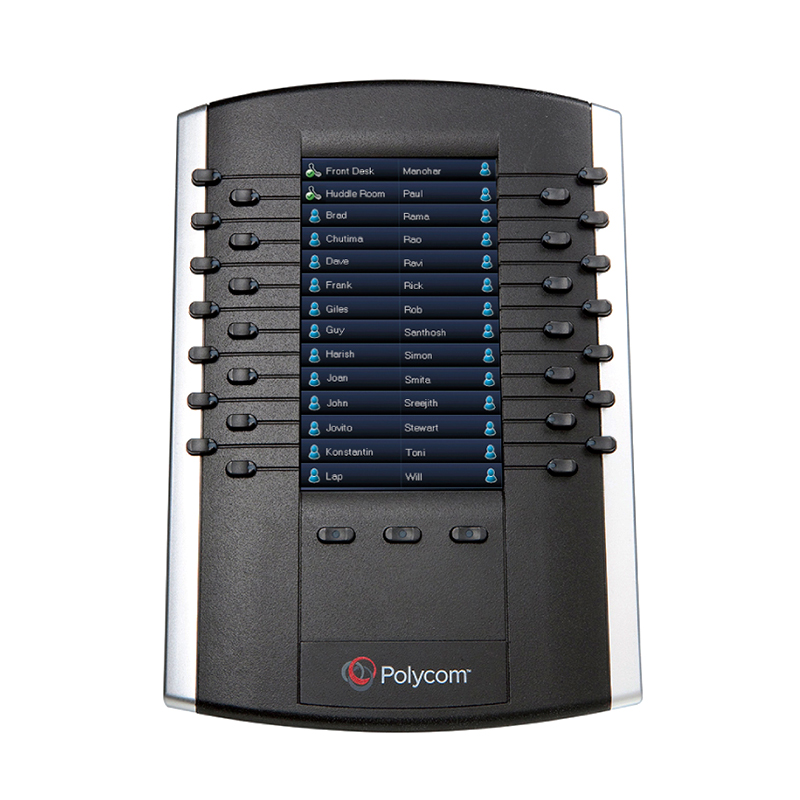 Poly VVX Color Expansion
Poly VVX Color Expansion
The VVX Color Expansion Module is an optimal solution for telephone attendants, receptionists, administrative staff, team managers, and other "power users" who manage teams, workflows, or multiple simultaneous telephone calls daily. The VVX Color Expansion Module extends the functionality of VVX business media phones and provides multifunctional line keys that can be set up as line registrations, call appearances, speed dials, direct station select, busy lamp field or even Lync® favorites.
EarthBend360 can help organizations of any size to obtain advanced unified communications and collaboration capabilities that will improve business efficiency. To learn more about how switching to the EarthBend360 Ascend UC platform can benefit your business, please complete this form and one of our team members will contact you.
EarthBend can help any size organization optimize business communications and contact center performance, reduce total cost of ownership and successfully migrate from legacy premises-based systems to the cloud. Contact us today to learn how we can help your business.